History & Mission | Faculty & Staff | Studio Policy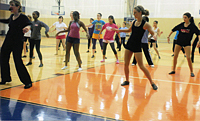 Miss Persis Studio began in 1954 in an old three-story house located near the First Methodist Church of Arlington and then moved to downtown Arlington on Main Street.  Five years later, another move was made to the brand new Town North Shopping Center which became our home for some 40 odd years.  In 2004, we relocated to Main Street again in historic downtown Arlington.   It is our purpose to offer the highest standards of dance education for students of all ages and levels.
Miss Persis Studio often hosts professional workshops. Some of our accomplished faculty has included Louis Da Pron (Donald O'Connor's teacher) of Hollywood, Jackie Troup Miller, Keith Clifton, Rhonda Miller, Bob Heath, Roger Spivy, Joey Patton (New York director/choreographer), Steve Webber of New York, Lyn Cramer (University of Oklahoma),  Libby Lovejoy and Sherry Gilpin. Many of our former students have become professional dancers, choreographers and musical theatre performers.
Miss Persis Studio is the home of Dance Theatre of Arlington. Visit their website for more information: http://www.dancetheatrearlington.org/.