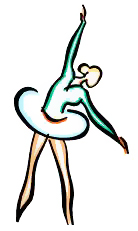 BALLET is the basis of all dancing. It requires concentrated and repetitive study and demands a high level of self-discipline. Poise, grace, and coordination, along with music appreciation, are accomplished through proper ballet training.
POINTE is an advanced form of ballet. Students are put on pointe only after extensive ballet training and then only with teacher approval.
LYRICAL is a form of dance which encompasses both modern, jazz and ballet techniques and is performed to contemporary and classic vocal music.
TAP is the only type of dance which is native to America. Tap training develops rhythm and coordination as well as improving the ability to think and react spontaneously. With proper training, tap is also beneficial in developing creativity.
JAZZ has been defined as "stylized theatrical dancing" based on many other forms of dance and influenced by American jazz music. It is the predominant form of dance used in the American Musical Theatre . It is usually performed to, but not necessarily limited to, the popular music of today.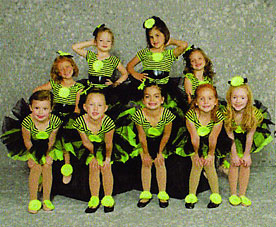 HIP HOP is a form of dance seen on many dance reality shows that began as street dancing and has evolved into a genre of its' own. It is very athletic and energetic and done to current hip hop music.
MUSICAL THEATRE classes offer instruction in basic speech and acting skills, vocal exercises, choreography and auditioning techniques. These classes are open to students 1st grade and up with teacher approval.
To sign up for classes, visit our Dance Class Enrollment page for more information.